The Beauty of Age
Just as we change with age and life experience, so will our premium vegetable tanned leather handbags.  The leather will patina beautifully as you enjoy it in your everyday life.  The photo captures some of the stages your bag will go through on its journey. 
Why People Love us...
Style meets Function
Our designs incorporate a blend of style and function that is hard to find.  We field test every design style and make changes until we find the perfect product.
Timeless Craftmanship
We do small batch artisan quality leather goods.  All our products are hand cut, riveted, punched and stitched.  Our products are built to last.  
Made in the USA
We are a small business that started as a way for me to work from home.  We have loved working together as a family to come up with designs that grow out of our necessities.  All of our products are made right here in the USA.  We source all that we can here, too! 
hides have character
Perfectly Unique Hides
We source our leather from USA tanneries that have been perfecting the traditional craft of vegetable tanning. A labor-intensive method, it produces superior leathers full of character and also the least impactful on the environment.  Hides come in different grades and we use only the premium grade hides for our pieces.  All hides have unique markings and surface character making them all unique and beautiful.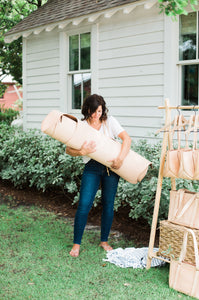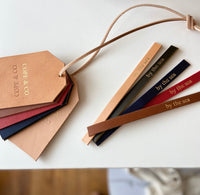 Customization
Cope & Co is able to make your handmade leather bag even more personal with an inscription of your choice. This will make your bag even more memorable and will be a keepsake that is a beautiful and elegant.
Custom Imprint
 Thank you Cope & Co for making my bag dreams come true. I have the Tote, the mini clutch and the Laptop tote and I couldn't be happier. I usually get stopped a few times per week asking me where I got my bag. Looks like the secrets out!

Angela, Folly Beach, SC
I'm a lover of bags but my Cope & Co bag has quickly become my favorite. The craftsmanship, versatility, and meaningful custom inscription make this my top choice for any occasion.

Lindsay, Charleston, SC
Worth the wait!! I ordered the custom Tote and couldn't wait to receive. My gorgeous bag came right on time and I'm in love Thank you Cope & Co!

Delaine, Greenville, SC
I'm in LOVE with this purse! I love Cope & Co's style and it fits any and everything I need for my everyday life. The amazing quality of leather is so obvious and I'm constantly getting compliments. It's trendy and cute and I absolutely love the way the leather ages. If you don't own a purse from Cope & Co, you're missing out!

Eileen, Charlotte, NC