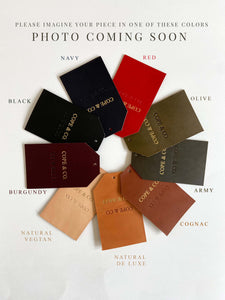 The "Everything" Tote 
Customers love the enormous functionality of our Large Tote.  While it was originally upsized to be a uniquely-styled lady's laptop bag, its ample volume has proven that it can handle just about anything we ladies can throw at it or into it!  Whether you are using it as a stylish commuter bag during the work week, or running errands with it on the weekend, this versatile bag gets the job done. Its large capacity and wide opening easily accommodate a 14" laptop with plenty of extra room for other necessities like notebooks, pocketbooks, electronics and cords, water bottles and more. The generous size and depth also make it well-suited for use as a diaper bag or stow-able carry-on.  If you are constantly on the go and like to be prepared for whatever life throws your way, this bag will become your everyday go-to.
Vegetable Tanned Leather
This hand-selected superior leather is sourced from tannery that has been perfecting its processes over a century and a half in the business.  With a labor-intensive tanning method, they produce high quality full-grain hides that are full of character, rich in color, tough in the wearing, and buttery supple to the hand.  
Tote Features
Easily fits a 13" - 14" laptop with peripherals
Approximate size:  14" long x 8" wide x 11.5" deep
Approximate volume:  1,200 cubic inches
Full-grain vegetable tanned, single piece body with hand stitched seams
Extra wide, heavy duty handles, fully riveted to bag
Stitched and riveted pocket(s)
Matching leather bottom interior liner is included
Optional monogramming and personalization included
Custom Options
Handle Length  
Double loop handles made of wide, full-grain leather are fastened to the bag with solid metal hammered rivets, ensuring long service under any load.  Both standard and short lengths are offered.  Standard handle length allows for easily carrying over your shoulder, with the bag body just above waist height.  Short handle length is a few inches shorter, making for a more snug fit when slung over a shoulder, or accommodating a shorter torso length.  (See photos for examples of both standard and short lengths.). Pricing is the same for both handle lengths.
Interior Pocket
All totes come with a shallow exterior pocket, fully riveted and stitched to the bag body, providing at-hand access to a cell phone, slim wallet, or other frequently used items.  For those wishing for more organizational options within the bag body, an additional interior pocket can be added.  See pricing in Interior Pocket dropdown menu.
D-Rings
While our Large Tote handles are sized to allow the straps to be worn over the shoulder, some customers also like the flexibility to be able attach a separate strap by D-Rings sewn into the bag seams, which allows the tote to be worn crossbody like a messenger bag.  Several strap options are available from Cope & Co.  Pricing is the same for bags with and without integral D-Rings.
Logos, Monogramming, and Personalization
For our direct order customers, we offer monogramming and/or branding of a short personalized message of your choice on your bag at not extra charge.  Please note the following options (and defaults):
The Cope & Co. logo is branded on the outside of your tote.  (See photos for logo location.)  If you wish the logo to be gold foil stamped, please indicate this preference in the order notes.
If you wish to have a monogram added to the exterior pocket of your tote, please provide the desired letters as you would like them to appear, and indicate whether you would like them branded or gold foil stamped in the order notes.  (Default option is no monogram.  Default brand type is to match the Cope & Co. logo.)
If you wish to add a personalized phrase or message (not to exceed 20 characters total) to the bottom liner of your tote, please include the phrase as it should appear, and your preference for branded or gold foil, in the order notes.  Upper and lower case letters, numbers, and standard punctuation marks are available.  (Default option is no personalized message.  Default brand type is to match the Cope & Co. logo.)
Shipping Time  
Cope & Co. makes each of its bags by hand (every cut, punch, stitch, and rivet) in order to give it the kind of care and attention that it deserves, and to customize according to your preferences.  As such, we typically require 4 - 6 weeks to craft your bag and prepare it for shipment.  When your item is ready to be shipped we will notify you via email with a shipping tracking number.  If you have any questions, please email us at hello@copeandcocollection.com